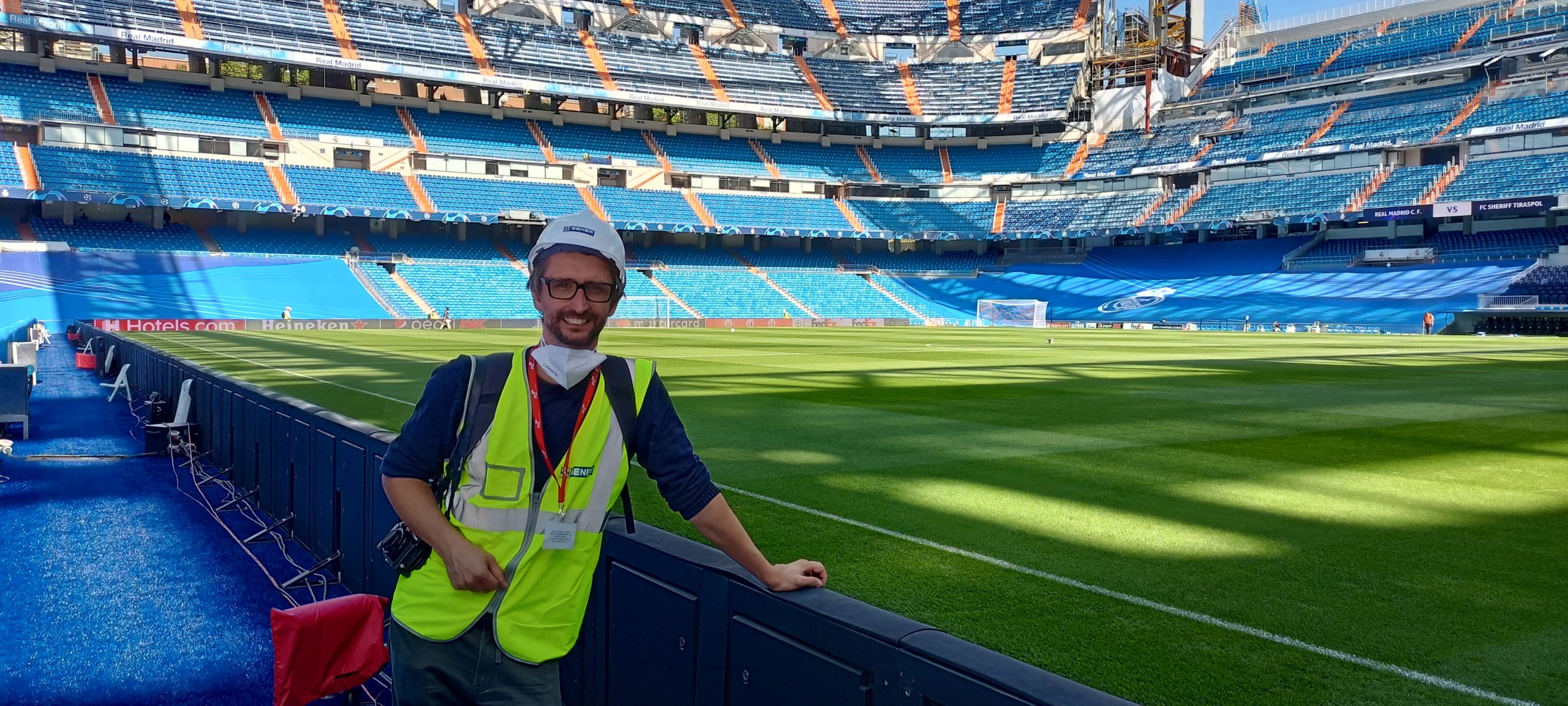 What inspired you to pursue a career in infrastructure and mobility sector?
It was always clear to me that I wanted to be an architect and to direct my professional career towards construction, mainly buildings. In your career, you end up making museums, housing or civic centres. At Sener, I had the opportunity to discover a branch of architecture that is unfamiliar to many architects, namely architecture associated with large civil or industrial infrastructures, and I have to say that it's a type of architecture that gets you hooked.
How did you join Sener?
While I was doing my final year project, I was given the opportunity to be an intern at Sener for 6 months, which ended up being 12 months. I really liked the multidisciplinary environment that existed, and still exists, which made me return a couple of years later with no hesitation when the opportunity arose.
What business area are you in? What is your day-to-day life like?
I am part of the architecture department within the Mobility area at Sener's offices in Barcelona. My work has always been closely associated with architecture projects, mainly railway and industrial and, in recent years, sports architecture. However, at Sener I have not only participated in projects: I have been lucky enough to do a bit of everything and to have had bosses who have always allowed me to be a bit of an "outsider" to explore or do different and fun things. Sener is a fantastic company to "annoy" colleagues from other disciplines and learn new things every day.
I´ve had bosses who have always allowed me to be a bit of an "outsider" to explore or do different and fun things.
What has been your progression since you joined Sener? What are the most outstanding projects you are currently working on?
Sener is a company that allows you to participate in extremely interesting projects in almost all parts of the world. I have been fortunate to be able to participate in railway projects in the Middle East, in large industrial projects and, in recent years, in projects and developments in the field of architecture and sports engineering. We are currently immersed in a development that we are working on in collaboration with a First Division football club in Spain and in which we are very excited.
How do you think the projects you work on influence the current/future world or society?
I would like to think so. From this premise, that of influencing the world to improve it, ideas such as Hypogea, the retractable grass project for the Santiago Bernabéu stadium were born. The aim was not to have an engineering contract: it was to develop a product to give greater functional and commercial sense to sports facilities. On the other hand, the works in which Sener participates are, for the most part, large urban and industrial infrastructure projects whose objective is to improve the lives of the citizens who use them. It is an honour to participate in these projects, but also a great responsibility.
Luck is what happens when preparation meets opportunity – Kamaru Usman
How do you keep up to date with the general knowledge and trends in your sector?
I really like a phrase that former mixed martial arts welterweight champion, Nigerian Kamaru Usman, said: "Luck is what happens when preparation meets opportunity". I am convinced that we have to always keep ourselves updated on what we are doing or what we would like to do because we never know when the next opportunity might arise. And to be prepared, the best thing is to like what you do.
In your opinion, what distinguishes Sener from other companies in the sector?
There is a part of science that studies colours and the emotions and values they convey. According to science, the shade of blue – associated with Sener's brand – conveys loyalty, commitment and order. I don't know if it's a coincidence, but I think these adjectives describe Sener perfectly. However, what I like most about Sener, which I don't know if other companies have, is approaching a colleague from another discipline, with whom I may never have worked before, and asking them about ideas that come to me, finding synergies between different fields of engineering. It's something we live with every day and maybe that's why we don't value it. At Sener there are many exceptional people and perhaps that is what helps to explain its success. Taking the Santiago Bernabéu retractable turf as a reference, this project was able to go ahead thanks to the collaborative work between different disciplines, to the firm commitment to the idea that the department maintained from day one, to the extraordinary team of structures and mechanisms that knew how to transmit with a fantastic design the reliability that the client demanded, to the colleagues in the structures team who pulled off a very complex project in record time or to the installations team, who did everything they could to invent agronomic maintenance systems that had never existed before. Without, of course, forgetting the entire team involved in project management and direction, who knew how to manage such a complex project in the context of a global pandemic. As far as I know, only Sener has this capacity.
According to science, the shade of blue – associated with Sener's brand – conveys fidelity, commitment and order.
What new challenges do you see yourself working on in the medium term?
I would like to replicate Hypogea, the retractable turf project we developed for the Santiago Bernabéu stadium, in other mythical sports stadiums, such as the Azteca in Mexico or the Centenario in Montevideo and, by the way, meet a sports star to sign a T-shirt for us. Many people don't know that in the entrance hall of the Lertegui 3 building in the Sener offices in Bilbao there is a photo of Buzz Aldrin walking on the moon. That picture is signed by Buzz Aldrin himself. We have to work hard so that, in the not too distant future, we will be able to place a shirt signed by Messi or Tom Brady next to that photo…